Tax Moves to Make
in 4th Quarter?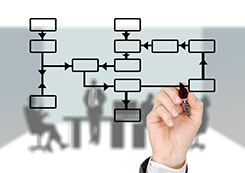 3 Key Options for Your Business
With year-end approaching, your time frame to implement tax saving strategies for 2022 is escalating.   Three typical situations that tend to happen near calendar year-end are:
Real estate deals:  It is common for commercial real estate deals to close by year-end, in order to achieve balance sheet and income tax goals of related parties.  Will this happen in 2022? Read these articles from Forbes "Seven Trends Driving Commercial Real Estate In 2022"  and Crowdstreet "How does inflation impact commercial real estate?"
M&A transactions: After a record-setting 2021, the M&A market has slowed in 2022, due in large part to economic and geopolitical uncertainty.  However, activity will continue — is your company on the verge of the buy or sell side?
Business restructuring/reconfiguration:  Perhaps your company is restructuring around new business lines or customer segments; or reconfiguring to add/combine/dissolve business units?  Whatever the process, your goals are likely to boost innovation and, ultimately, financial performance.  Numerous factors often drive such changes to occur by year-end.
What will your business do to best take advantage of tax planning opportunities in 2022?  
REAL-LIFE METHODS TO MINIMIZE TAXES
Here are examples of how MyCFO helps our clients as their tax accountant:
Real estate transactions: Cashing out on your residential rental and commercial real estate properties seems wonderful until the tax bill arrives.  MyCFO helps our clients to use all available avenues to minimize or defer the related capital gains tax, which can vary depending on your situation.A popular option to delay such taxation is through a 1031 exchange.  Taking this application one step further, investing the proceeds of a 1031 exchange in a Delaware Statutory Trust has other tax benefits worth considering.  A DST is an investment trust which holds one or more pieces of real property, allowing investors to have a fractional ownership interest in the property held by that trust.  DSTs offer the same tax advantages of real estate that an investor would own and manage themselves. Depreciation and amortization are passed along to DST investors by their proportionate share. In situations in which the building value is substantially more than land value, investors may have essentially tax-free income due these write-offs.
Mergers and acquisitions tax planning: Multiple partners, loans, and tax implications: When selling or buying a business, tax planning can make a massive impact on your net payout as a seller, or future depreciation write-offs for the buyer.  A common issue is determining whether the purchase will be an asset vs. stock sale, which when fully understood, can usually be structured to make economic sense for both parties.
In this case, our client's ownership was composed of three partners, each with loans to the business of different amounts, and an earnout (i.e., part of purchase price paid in future) to consider.  Not only was a calculation of payout/partner necessary, but structuring the deal to minimize taxes for the sellers was of paramount importance.
Lawyers often ask MyCFO to look at their M&A transactions.  However, a common mistake is waiting to call us until the deal is too far down the road.  We encourage all parties, and their legal counsel to contact us early in the process so that we can help with proper structuring of the deal and negotiations, i.e., before both seller and buyer think a deal is struck, then it must be unwound and re-done because of tax implications.
Business restructuring/reconfiguration: As your business grows, you may decide to form a number of related companies.  Typically, the motivation may be liability/risk management, marketing or even valuation and eventual sale of the business.  However, tax benefits and structuring are often left as an afterthought, which leads to unintended consequences. In this case, our client's family business that was decades old had expanded through vertical integration.  The related companies were not only in the same industry, at different stages of production, but several operated out-of-state.  As the next generation of family members was transitioning into ownership, it was important to know the profitability of each operation. Part of MyCFO's solution was to form a management company, under which all related companies were held.  This made the profit picture clearer and allowed for an effective business valuation to take place, so that ownership could be fairly distributed.  Of course, taxation was considered in the process, as the multi-state aspect of some of the companies impacted their overall profitability.  We also consulted with the client on tax issues related to future buyout options for family members looking to leave the business.
DON'T DELAY – CONTACT US TODAY!
Whether your year-end needs are in real estate, M&A, restructuring or other financial/tax goals, MyCFO can help.  We apply our decades of experience in innovative tax planning and preparation.  If this is the kind of innovative thinking and client-focus that you'd like to see for your tax accountant, contact us.